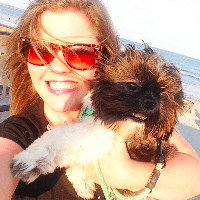 Filed by Missy Baker

|

Feb 01, 2016 @ 4:43pm
On Sunday, Dan Mozer was taking pictures of his pregnant wife Angeline at Atlantic Beach in Jacksonville, Florida, when they were photobombed in the beachiest way possible. No, not a retiree in a speedo or a random surfer on bath-salts—this was a real life dolphin photobomb. Mozer shared the photo with News4Jax, who described it as "A once in a lifetime shot." It's so magical, the pic looks Photoshopped, but the only magic here is FROM MOTHER NATURE!