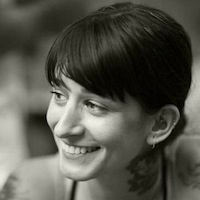 Filed by Jessie Dean Altman

|

Apr 14, 2016 @ 4:25pm
On Sunday, John Olynyk and his friend Wade Peeler were kayaking in Vancouver's English Bay, looking for a humpback whale they'd seen on Thursday, Friday, and Saturday. And based on this video, it seems like maybe the whale was looking for them, too.
In an interview with the CBC, Olynyk said "My heart started racing when I saw small fish swimming to the surface in a frenzy, I knew it must be close. This was the most amazing wildlife experience of my life, a true bucket-list moment." ​
Olynyk and Peeler stressed that they were not trying to get this close to the whale; to do so could be dangerous. Rather, the whale approached them. Luckily it approached them in a curious, gentle fashion, as opposed to the slightly more rambunctious approach this whale took with some other kayakers: