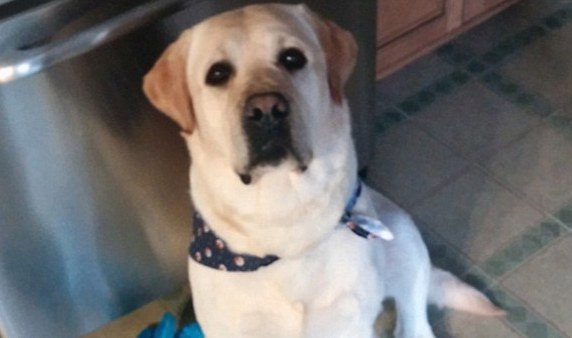 Wesley, a good boy. (via)
A labrador retriever named Wesley was reunited with his family yesterday, after going missing just days before Hurricane Sandy 17 months ago. A woman called police to say she'd seen him wandering around her neighborhood on his own, and when a cop drove by to check on him, he jumped in the back seat.
When he was scanned for a microchip, it was discovered that he belonged to Miguel and Myra Cruz. When the cops called them on April 1st to say their dog had been found, they thought someone was pulling a cruel April Fools' joke on them (which actually wouldn't be that shocking considering some of the insanely stupid pranks people have pulled). 
Because the dog had been missing for so long, and because of the storm, the family had feared the worst. But when Myra heard the cop say Wesley's name, she said "the family was jumping up and down like they won the Super Bowl."
Philadelphia News, Weather and Sports from WTXF FOX 29
When Wesley was reunited with the family, they were shocked to see that he was about 20 pounds heavier than he'd been. You can see in the video that he seems happy to meet just about anyone, so it's not surprising that he's been able to make friends willing to feed him during his ordeal.
Spread the word if you can, so the people who have been taking care of him know that their chubby pal has been reunited with his old family.
(by Jonathan Corbett)