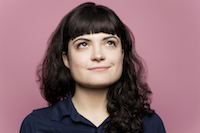 Filed by Jaime Lutz

|

Dec 22, 2015 @ 10:30am
In this late-entry bid for cutest animal video of 2015, a mama otter grooms her baby otter by fluffing up his fur at a tide pool near the Monterey Bay Aquarium in California. Apparently, turning a baby otter into a fluffy little aquatic teddy bear makes it easier for the little guy to float.
WATCH: A newborn baby otter was the center of attention this weekend at the Monterey Bay Aquarium. The mother spent the afternoon grooming her pup because puffing up the fur makes it easier for the little one to float in the water. http://nbcnews.to/1meYdGr

Posted by NBC Nightly News with Lester Holt on Monday, December 21, 2015
Looking at the otter mom licking her paws before running her hands over her baby's hair will remind you of your mom doing the same exact thing. It's just a mom thing, no matter what the species.