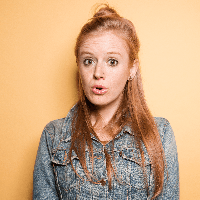 Filed by may wilkerson

|

May 18, 2017 @ 4:20pm
A lot of people are freaking out and rethinking their summer plans thanks to a new viral video that shows several sharks swimming terrifyingly close to beach goers on a popular South Carolina beach.
The video was taken from the Garden City Pier, about 5 miles South of Myrtle Beach, South Carolina, which is a hot beach destination for tourists and families in the summer. Sharks are not known to be the friendliest animals. So it's no wonder people are losing their minds over this:
Look how close these sharks are swimming to the shore! This video was taken by Cody Kinzer of King, NC from the Garden City Pier, which is about 5 miles South of Myrtle Beach. WMBF News To use this video in a commercial player or in broadcasts, please email licensing@storyful.com

Posted by Myrtle Beach Getaway on Tuesday, May 16, 2017
Cody Kinzer, who shot the footage, told WYFF that seeing sharks this close to shore was "surprising." "I've fished a lot down there so I know they are always out there and I've seen plenty but I've never seen 8-10 sharks this close behaving the way they were," he said.
The video has wracked up over 11 million views and hundreds of thousands of comments since it was shared on Tuesday by Myrtle Beach Getaway, a vacation rental company. Based on the comments, clearly a lot of people are reconsidering hitting the beach this summer:
Maybe skipping the beach (or at least THIS beach) this summer isn't the worst idea. But for those fearless warriors who still decide to go, just keep in mind, you're going to need a bigger boat.