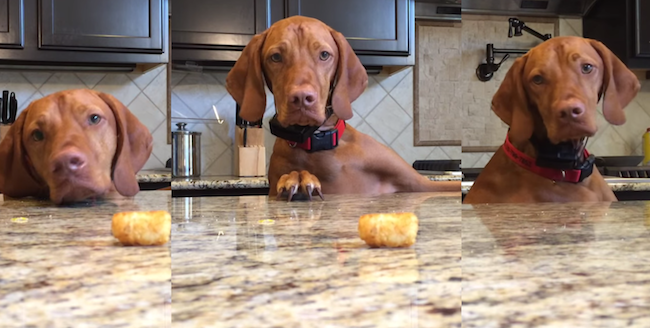 Who would leave one Tater Tot?
Argus the Vizsla wants this tater tot so badly he can taste it. Or at least smell it. And anyone who's experienced the singular goodness that is Tater Tots know they smell and taste delicious. Argus tries everything he can think of to get to it—pawing, sniffing, even gracefully sliding past it a few times on the slippery counter as if attempting to coax the potato treat into following him. No luck. The YouTube description says the banging sounds you hear is Argus moving a barstool in order to get at a frying pan to lick. But the Tater Tot keeps pulling him back.
We've all experienced what the poor guy is going through. Whether it was a dream job we didn't land, an unrequited love, or a potato nugget just beyond our grasp. One redditor was so moved by Argus' longing he created an animated tribute.

(via Thund3rbolt)
Don't feel sad for Argus. His owner says he received the Tater Top once he stopped struggling to reach it. So typical. Also, the collar isn't to shock him. It's on a low setting to gently remind him not to do things like paw at the counter for food and lick pans. So gently, it appears, that Argus isn't bothered by it at all.
(by Jonathan Corbett)