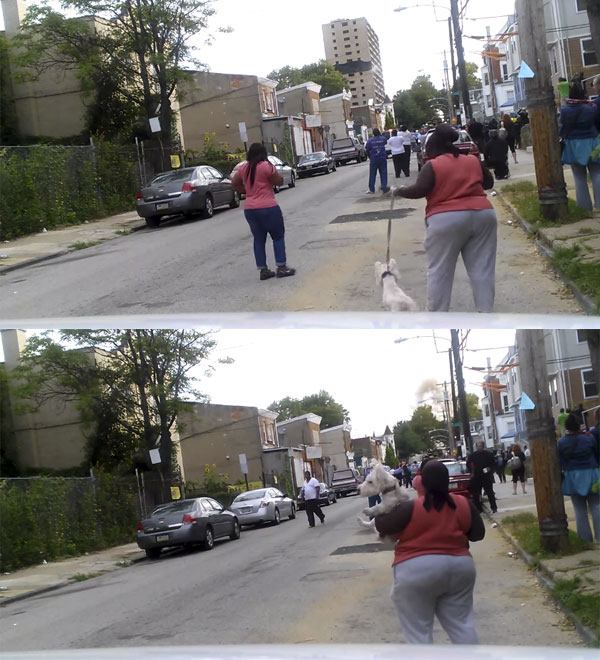 "Where'd it go?"
When Philadelphia resident Kevin Sohnly pulled out his smartphone to take this video, he was almost certainly doing it with the intention of recording the Germantown neighborhood's Queen Lane Apartment building being demolished via explosives, but what he got was so much better. Without even realizing it, he captured an absolutely flawless piece of silent comedy slapstick. Watch the lady with the dog:
First of all, this is  a classic comedic duo: the big and the small, the bumbling and the put-upon. Think of Laurel & Hardy, Abbott & Costello, Gilligan & the Skipper or Karl Rove & George W. Bush. The size differential can go either way, one half of the pair is always screwing up in some way that causes harm or inconvenience to the other. It's been used a thousand times because it works.
Secondly, the timing could not have been more perfect had Charlie Chaplin choreographed it himself. The second she turns away from the action and toward the dog, the building starts coming down. And then, just as she's coming up and back around, the cloud of detritus dissipates into the atmosphere.
Finally, the woman's response is brilliantly stoic. She just stands there, unmoving as everyone else moves on with their lives. We can't see her expression, but I get the impression that she's wearing a Buster Keaton-esque stone face. At least she does in my head.
I hope that more videos of this woman and her dog pop up on YouTube. Just going about their lives and getting into trouble that is accidentally recorded by unsuspecting people on their cell phones who are trying to record something else. It seems unlikely, but I'll definitely keep my eye out.
(by Dennis DiClaudio)