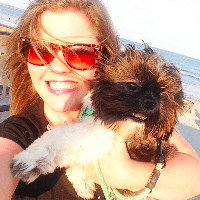 Filed by Missy Baker

|

Oct 21, 2015 @ 6:47pm
If you're having a hard time figuring out what's going on in the world, imagine how Shelby the 13-week-old English bulldog feels. The tiny puppy was completely adrift when she felt her first tiny rain drop, and then her second, and third. Suddenly, she had to question everything in her whole puppy life.
If she thinks this is confusing, wait until she tries to figure out the electoral college.