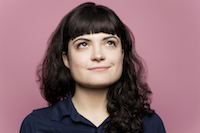 Filed by Jaime Lutz

|

Mar 25, 2016 @ 7:40pm
Most kids are born looking as bald as George Costanza after a stressful life event, but not this kid. Reddit user Double_Cross_Gender posted a photo to Imgur of his baby cousin, and it's going viral because the kid looks like a newscaster or potentially the next Harvey Dent (at the rate they're rebooting Batman, you never know).
Despite her male newscaster hair, the baby is actually a cute little girl. Someday, that head of hair is going to make her classmates really jealous, and not just because her baby photo got over 3 million views on Imgur.