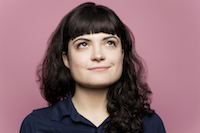 Filed by Jaime Lutz

|

Apr 18, 2016 @ 6:04pm
Scottish mom Laura Hopkins found her little boy in front of a mirror covered in drawn-on lipstick and, naturally, asked him if he had done it. Hopkins's clever son, however, claims to be innocent. Batman, Gotham City's famed caped crusader, is to blame. Hopkins posted a video of the cute interrogation to the Facebook group The Unmumsy Mum, and it went viral, with over 700,000 views of the little boy's utter shamelessness. As if Batman would draw on the mirror! That's ridiculous! He's too busy protecting Gotham!
If anyone see's batman can you tell him I'm wanting a word 󾮖🏼󾌳

Posted by Laura Hopkins on Friday, April 15, 2016
Still, it has some basis in canon. At the end of The Dark Knight, Batman agrees to take the blame for a series of vigilante murders around Gotham that were, in fact, committed by a traumatized Harvey Dent. You have to imagine that he'd be okay with taking the blame for a cute kid who drew with lipstick on his mom's mirror.