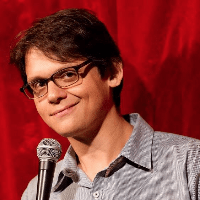 Filed by Matt Nedostup

|

Nov 28, 2016 @ 12:44pm
Reddit user pangitlee, a.k.a. Shannon Bihamta, was recently going through old baby photos of her son Logan when she came to a startling realization: he looked exactly like legendary actor Danny DeVito. She posted the photo to Reddit, where it immediately went viral, because this kid really looks like Danny DeVito.
Bihamta explained to The Huffinton Post why she decided to share her smiling little Penguin with the internet:
While going through my old photos, I still got a laugh out of this picture, so I decided to share it on Reddit. I hoped to spread some laughter and bring a little break from the political posts.
Mission accomplished, ma'am. Well done. Let's take another look at DeVito to compare.
Bihamta explained that now that he's two years old, Logan's resemblance to the Taxi star has diminished.
He doesn't look so much like Danny Devito anymore. But he's still entertaining and a huge sweet heart.
Of course, nobody could be as entertaining, or have as big a heart, as Danny DeVito. But if this kid manages to maintain a fraction of that DeVito magic into adulthood, he'll be a real mensch.