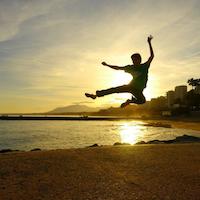 Filed by Mitchell Friedman

|

Jun 09, 2016 @ 10:58am
Sometimes, a kid gets a water toy stuck on his face and freaks out, and sometimes Reddit is there to make a fun situation hilarious with an all-out Photoshop war. The Internet can only hope this becomes the new Success Kid.
The masters of digital manipulation took to Reddit to make the boy—and his adorably terrified face—travel around the world and, to quote Buzz Lightyear, beyond. Far beyond.