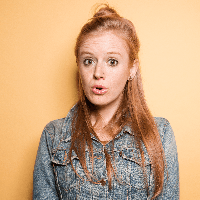 Filed by may wilkerson

|

Feb 10, 2017 @ 6:20pm
We all have a bucket list, right? Mine has one item on it: buy a box of cereal and make it last longer than 24-hours. I know you're thinking, wow, she's so hardcore! And I thought so, too. But this 10-year-old girl's bucket list that was discovered and shared on Twitter by her big brother, Josh, puts my bucket list to shame.
Actually it puts my whole life to shame.
Here it is:
It reads as follows:
1. eat a hammer head shark, snake, and bear

2. get a pet blobfish, kalo kola, sloth and flingo

3. get a sign that said something in a bifferent lagnage then on Mar, 12, 2019 I will translate it.

4. try Ariel silks

5. set in an empty room for an hour

6. eat 10 taco bell Dorito taco

7. win a taco bell Dorito taco eating contest

8. stay a sleep for 24 hours

9. pet a cheetah

10.
"i found my sister's bucket list?" Josh wrote. "what the hell is she on."
And that's a good question. If an adult had written this, I would say probably an extremely high-potency strain of marijuana (based on the TWO Taco Bell references). Or one of those hallucinogenic drugs only found in the rain forests of South America.
But she's a kid. So I'll guess she's just high on a drug called being a kid. Still, she's clearly on a much higher-than-average dose.
People on Twitter had questions, mostly about that missing #10:
@parker_healy i'm convinced #10 is the just the blank space. non-existence is the final thing on her bucket list

— Josh (@Asbronaut) February 5, 2017
Others wanted Taco Bell to step in and help out with #'s 6 and 7:
@Asbronaut Hey, everyone wants to pet a cheetah. Also I have to know if @tacobell made your sisters dreams come true!

— NFNicole's WordVomit (@Not_Interesting) February 9, 2017
And it looks like they might?
Josh seems just about as confused about the list as everyone else:
like what the hell are #5 and #8? why is #3 so damn specific

— Josh (@Asbronaut) February 5, 2017
@ROBFORD99 i think she writes based off of sound far more than on standard english lexical structure bc she's dyslexic and english is weird

— Josh (@Asbronaut) February 9, 2017
He's also kind of concerned about his little sister's well-being, which makes sense:
@felixwav @choibjna she's really out here trying to die—she wants to be in a coma and be in close contact with several dangerous animals

— Josh (@Asbronaut) February 5, 2017
But I disagree, Josh. I don't think she's trying to die—I think she's trying to live! And she's inspired me to follow in her footsteps by starting with #8: sleep for 24 hours. YOLO!