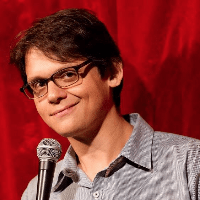 Filed by Matt Nedostup

|

Aug 19, 2015 @ 12:34pm
Katie Myers's photo of the boy with her son Kaden has gone viral because just look at it.
Katie Myers snapped this heartwarming photo last week at the South Florida Science Center and Aquarium in West Palm Beach. She regularly takes her 18-month old son Kaden there to play, because he's in a wheelchair and can't do much at the local playground. She told ABC News,
"At home, he doesn't have much room to explore, so we're there almost every day because, to Kaden, it's like his playground. It's big and has smooth, concrete floors. It's his own accessible little paradise. We're there all the time, but we've never had an experience like this."