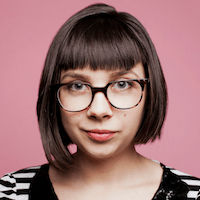 Filed by April Lavalle

|

Nov 17, 2016 @ 10:45am
You don't get to be the daughter of South Park creator Trey Parker without saying a few expletives into a microphone before starting kindergarten. In these behind-the-scenes videos taken by Parker's wife, Boogie, you can see their 3-year-old daughter Betty doing some voiceover work for the show with some help from her dear ol' dad.
At first, she struggles with the line, "What's goin' on, Dad?" But when it comes to the second line, "Daddy called you a pussy," Betty totally nailed it. Hey, if you aren't offended by the President-Elect saying it, don't be offended by a toddler saying it.
Betty was providing the voice for Ike Broflovski, Kyle's adopted Canadian younger brother. Over the years, many people have voiced Ike, including South Park co-creator Matt Stone, Bill Hader, and various children of staff members.
Here is Trey Parker showing his kid how she sounds paired up with the animation. Even she is in disbelief with how well she did.
Betty's voiceover was featured in the 7th episode of Season 20, entitled "Oh Jeez"—which is probably what a bunch of commenters will be saying after reading this article.