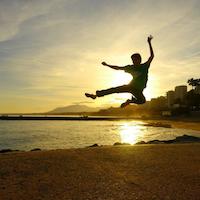 Filed by Mitchell Friedman

|

May 31, 2016 @ 5:37pm
Nicholas DeGregorio, 11, is a fifth-grade trumpet player at Newbridge Road Elementary School in North Bellmore, New York. He couldn't wait to join his school's marching band for the first time on Memorial Day as they paraded through the town. Alas, weather got in the way, as it does. The march was canceled.
But, in today's edition of heartbreakingly sweet local news, a veteran showed up for that parade, unaware it was canceled due to weather, and linked up with the young trumpeter who wouldn't let anything rain on his parade. Yes, you're going to have to stomach several cloying clichés for this story. Of course, every cloud has a silver lining will make an appearance towards the end.