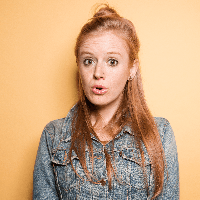 Filed by may wilkerson

|

Nov 28, 2016 @ 8:20pm
Even if you aren't the type to get weepy over proposal videos (why don't you believe in love???), this one is certain to melt even the grinchiest of hearts. Jerad Forsyth and his girlfriend of two years, Kat Woodley, were visiting the SPCA in Erie County, New York, to adopt a kitten, reports the Springfield News-Sun. But Forsyth had an extra surprise up his sleeve.
Woodley knew about the kitten. What she didn't know is that it had been outfitted with a special collar with a specific question on it:
DAWWWWW. Spoiler alert: she says yes. Because, I mean, wouldn't you?
The SPCA filmed the very sweet proposal and Woodley's emotional reaction, which you can watch here:
Can't think of a better way to head into the Thanksgiving holiday! Love is in the air here at the SPCA! That's a "Will You Marry Me?" tag on tiny kitten Gandalf! After meeting on a blind date Thanksgiving 2014, Jerad knew Kat (yes, her name is Katherine!) was the only one for him...and decided to tell her so with a proposal moments ago when she came in to adopt Gandalf! Kat thought she was being filmed for an adoption video...but we knew otherwise! Congratulations to the happy couple - lots to be thankful for!!!

Posted by The SPCA Serving Erie County, NY on Wednesday, November 23, 2016
The video has been viewed nearly 20 thousand times and received hundreds of messages of congratulations. The couple are engaged and the kitten found a home. See? NOW do you believe in love?