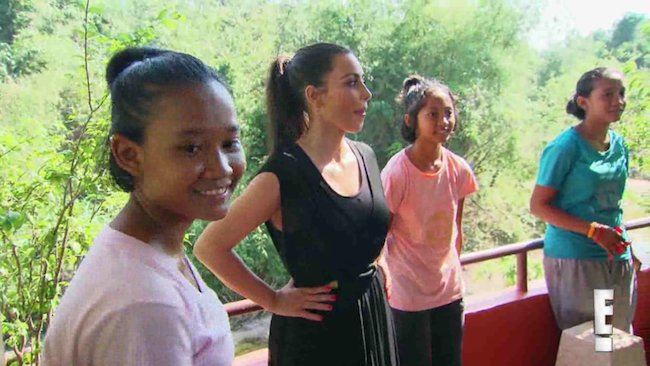 The one that got away.
Some kids are wise beyond their years. That's certainly the case with Pink, a Thai girl who decided she would rather take her chances living in an orphanage than be adopted by Kim Kardashian.
On a very special episode of Keeping Up with the Kardashians, it's Kim who decides against the adoption, but in reality the scene appears to have played out differently.
The family was in Thailand using the ten-year anniversary of the tsunami as a backdrop for their show. During a tour stop in the Phang Nga province to introduce orphans to the worst of American culture, Kim started eyeballing Pink like a must-have pair of shoes. She was so taken by the 13-year-old, she announced on camera that she'd like to adopt her.
"When you meet someone that you really connect to like this, you can't help but think like how you could change their life," Kim said, "I literally cannot stop thinking about her. I told Kanye, I was like, honestly, this girl is so sweet and so cute, like, I would honestly adopt her."
That's when Mama Kris stepped in and put the kibosh on the idea, telling Kim that the family wasn't in Thailand on a shopping spree. Kris probably also wasn't thrilled with the thought of working another younger, cuter cast member into the budget.
It all made for good reality TV. But Pink recently told the Daily Mail that she was the one who shot down the idea, because she didn't feel like leaving her country behind to live with Kim and Kanye.
"Everyone wants to have a different or a better life, I suppose. But when I thought about it, I realized it wouldn't be good for me, because I would have to leave so much behind. I wasn't ready for that."

Despite the possibility of a life full of finer things, Pink says she feels that she made the right decision.
In a way, it's too bad. Because she sounds like a bright, sweet kid, which is something the show could use more of.
(by Jonathan Corbett)