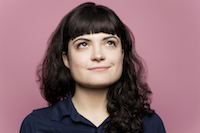 Filed by Jaime Lutz

|

Feb 29, 2016 @ 3:50pm
The "In Memoriam" segment at the Oscars is always a fun game to see how much grief and death you'd subconsciously repressed from the previous year of your life ("I forgot that Leonard Nimoy died! Sadness I had tamped down is returning to me!"), but even the Academy refused to acknowledge some of the departed last night.
The presentation this year included such stars as Leonard Nimoy, Wes Craven, Alan Rickman, Christopher Lee, and David Bowie (with a clip, bafflingly, from his cameo in Zoolander rather than his starring role in The Man Who Fell To Earth). The montage was set to the somewhat incongruous and not-super-well-received soundtrack of Dave Grohl covering The Beatles' "Blackbird." Despite the obviously heartfelt sequence, the Academy also ignored some very well-known actors. You'd think they would have known better after the backlash they got for leaving out comedy legend Joan Rivers last year, but no.