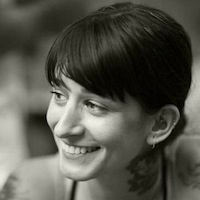 Filed by Jessie Dean Altman

|

Jun 14, 2016 @ 3:10pm
On Monday night, Maroon 5 frontman Adam Levine posted an arty black-and-white picture of his pregnant, super-hot Victoria's Secret model wife Behati Prinsloo, reminding the world once again that he married and subsequently impregnated a super-hot Victoria's Secret model. The baby, their first child, is due in September.
A post shared by Adam Levine (@adamlevine) on
Just look at her. She's a model, did you notice? He captioned the picture "YOWZA" and added some fire emojis, in case you somehow missed how perfectly hot she is by looking at the picture. Her hair's got that "freshly screwed" look that looks great on pretty people and completely insane on everyone else. She's using her hands as a bra, because why not. Her jeans even appear to be undone, giving the impression that they've just had some extra special private time together. Easy tiger, you can't knock her up again until she's actually had this one.