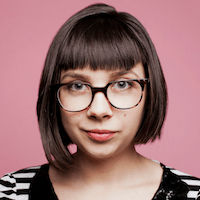 Filed by April Lavalle

|

Nov 29, 2016 @ 8:01am
Alexis Bledel was on The Tonight Show on Monday night to talk to Gilmore Girls fanatic Jimmy Fallon about the revival of the series. Bledel, who played Rory Gilmore (and also never ages) revealed her top four favorite characters from the show and they are SO. RANDOM.
Okay, Kirk is definitely a fan fave, so that makes sense. Miss Patty and Babette are a little more obscure, but still completely hilarious. BUT CAESAR? Why?! Not that he isn't fantastic in the few episodes he is on, but Caesar is such a bizarre choice seeing that Rory has interacted with nearly ever character that has ever been on the show.
Bledel also spoke to Jimmy about the shocking last four words of the series (don't worry, no spoilers) and her role in Sisterhood of the Traveling Pants. Jimmy even suggested an all-male reboot of the movie, because what we all need now is more men in leading roles. Obviously.
That was cute. BUT CAESAR????????