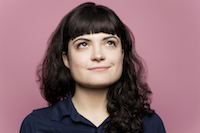 Filed by Jaime Lutz

|

May 12, 2016 @ 11:14am
Alyssa Milano said she felt pressure to get back to her pre-baby weight just two weeks after giving birth. And by the way, getting back to your pre-baby weight is not even a requirement for anyone ever, but apparently it feels like that in Hollywood.
"I didn't feel pressure from within the industry," Milano told E! News. "Any pressure that I felt was from seeing other celebrities get down to their [pre-]baby weight in two weeks, and I know that for me that's just not in my makeup, biologically, there's just no way that I could've dropped all that baby weight in two weeks. But the only pressure I really felt was self-inflicted pressure, and that was really fleeting."