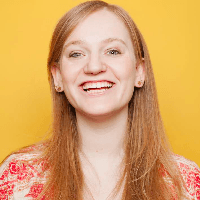 Filed by Orli Matlow

|

Mar 10, 2017 @ 9:34am
A human rights lawyer who happens to be married to some actor, Amal Clooney, gave a powerful speech at the United Nations on International Women's Day. While Clooney was delivering her remarks titled "The Fight against Impunity for Atrocities: Bringing Da'esh to Justice," in which she implored the world's diplomats not to let ISIS "get away with genocide," some people only saw her baby bump.
Other headlines include Mirror's "Amal Clooney is a vision in yellow as she shows off hint of baby bump in chic dress" and Entertainment Tonight's hot take, "Amal Clooney Stuns in Yellow While Delivering Passionate Speech at the United Nations."
E! News's spin was "Amal Clooney Shows Baby Bump in What Could be the Ultimate International Women's Day Poster."
Twitter promptly asked publications to focus on what's important: she's literally talking about genocide.
she was talking about sexual slavery and Isis.

— Sophia Cannon (@SophiaCannon) March 10, 2017
.@TIME @motto wow. I am shocked at how disrespectful that headline is to the critical work she was doing.

— Janice Person (@JPlovesCOTTON) March 10, 2017
That's all you guys have to say about an intelligent woman speaking out on atrocities in the world?

— RobotBreakPlanet (@PlanetWalter) March 10, 2017
She was discussing human rights, but I guess when you're pregnant, it's "showing off" you baby bump by default.
Apparently it's worse when you click.
Who cares about her human rights accomplishments and professional prowess when she has a slick maternity outfit!? 🤔

— Ellie Tallon (@El_Wells) March 10, 2017
Watch her powerful speech here, and try not to be distracted by the fact that she is with child.