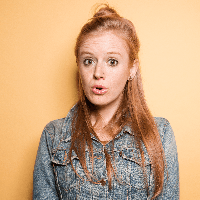 Filed by may wilkerson

|

Dec 01, 2016 @ 8:00pm
ICYMI, Amanda Seyfried is expecting her first child, with fiancé Thomas Sadoski. Apparently, a common side effect of pregnancy is heightened senses. And in Seyfried's case, her sense of smell is so strong she claims she can smell electricity. "I swear to god I can smell the TV," said the Mean Girls star, seriously, in a new interview with Refinery29. "There's this static-y, metal-y scent. Do you know what I'm talking about?" (The interviewer apparently did not know what she was talking about.)
As you may remember, Seyfried's endearingly ditzy character in Mean Girls, Karen Smith, also had some pretty weird special powers. Like this one:
Also, her boobs could predict the weather.
She has a fifth sense!
Karen Smith is a fictional character. Amanda Seyfried is not Karen Smith. And yet...
Ability to smell electricity is not Seyfried's only pregnancy super power. She also is not experiencing any nausea. Good for her! Like any superhero, though, she has an Achilles' heel. "The only thing I can't tolerate is body odor," she said. "Normally, it's fine — I know it'll pass or I can leave the room — but I cannot tolerate it anymore. I have a hard time with that."
So if you plan on hanging out with Amanda Seyfried anytime soon, make sure to deodorize—yourself, and also your television.