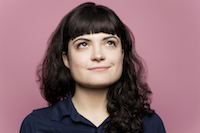 Filed by Jaime Lutz

|

Jun 16, 2016 @ 7:35pm
Vogue editor-in-chief Anna Wintour and comedian Amy Schumer did a cute li'l video to promote Schumer's cover story in the fashion mag's July issue, and it's perfectly enjoyable and funny (Schumer wrote the video herself):
Basically, Schumer struggles at doing Wintour's job (which honestly looks like the easiest thing in the world), and Wintour kills at doing stand-up. However, from the perspective of the New York comedians who write for this website, is ridiculous. So please allow the following rant:
Ugh, Anna, there is no f*cking way that saying "Wintour is coming" would kill at the Cellar. Also you're not really supposed to drop the mic. Come on, that damages it for the next person. "First date, last date?" You're a f*cking hack and you couldn't get booked in the basement of The Creek and the Cave for godssakes.
OK, done. Thanks.