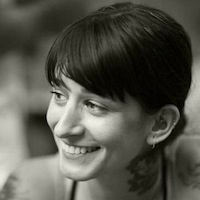 Filed by Jessie Dean Altman

|

Jun 27, 2016 @ 2:10pm
A news crew filming a group of religious protestors at London's Gay Pride parade on Saturday happened to spot actor Jesse Eisenberg (who's in London performing in a play) walking his bicycle through the crowd. Eisenberg stopped briefly to glance at the protestors' signage, as a man speaking into a microphone preached, "It's all very well saying God is a God of love. We would agree, God is a God of love. But he's also a God of justice. God has his laws."