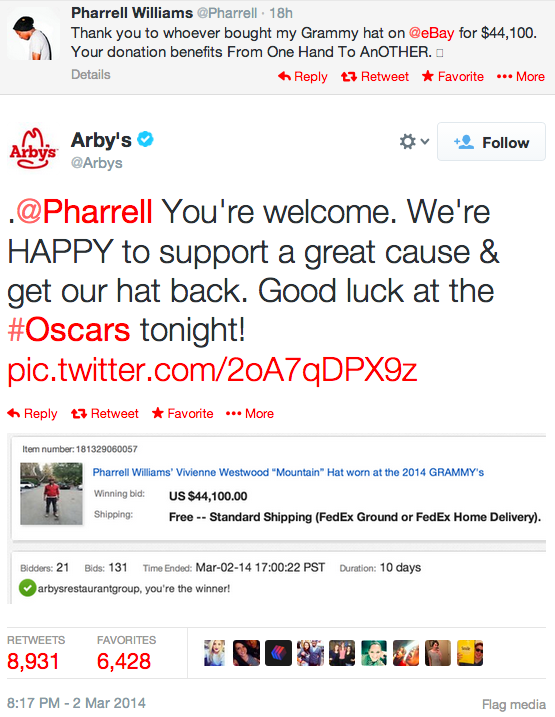 Really, Arby's? You shell out 44 grand and decide to go with regular shipping? (via Arby's)
It was the hat heard 'round the world. Pharrell Williams wore a tall, brown, mountain-style hat to the Grammys that was described by many as "Smokey the Bear-ish," "like it should be shouting 'Gryffindor'!", and "bad." However the most popular comparison was that to a popular fast food sandwich chain, Arby's, whose iconic brand was for many years represented by a talking oven mitt, which they would apparently prefer over one of the most successful recording artists and producers of the past two decades. (To be fair, he might be a vampire.)
We're up all night to get roast beef @Pharrell pic.twitter.com/eg5Yrar6XJ

— Alexei Saba (@sabzi) January 27, 2014
This honestly made me google "24 hour Arby's." It' 2pm.
Hey @Pharrell, can we have our hat back? #GRAMMYs

— Arby's (@Arbys) January 27, 2014
It's the source of all their power.
Capitalizing on this great press, Pharrell placed the hat up for auction on eBay, with 100% of the sale going towards From One Hand To Another, a children's education charity. Seeking to transfer the hat from one head to another (or at least towards an incorporeal corporate entity), Arby's purchased the hat for $44,100.00. 
Thank you to whoever bought my Grammy hat on @eBay for $44,100. Your donation benefits From One Hand To AnOTHER. 🙏

— Pharrell Williams (@Pharrell) March 3, 2014
He's just happy to get it out of his closet. It takes up a lot of space.


Who said corporations never do anything good that serves short-term PR goals? (via Arby's)
One thing is for certain: when people think of Arby's, they will no longer think of the enduring and massive popularity of Pharrell. Oh, and also that it's up to you to prevent forest fires.
(by Johnny McNulty)