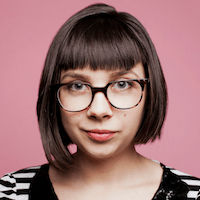 Filed by April Lavalle

|

May 20, 2016 @ 10:24am
Is singer Ariana Grande expanding her artistic reach to starring in horror films? Meh, not quite. But she did star in this satirical video on Jimmy Kimmel Live! last night, so maybe she is expanding her artistic reach into comedy? You can be the judge of that. Behold, the fake trailer of the fake movie "Dog Face Filter," starring the real Ariana Grande and the ever-popular dog snapchat filter.
The scariest part of this fake horror film trailer is that some people are definitely going to think it is real. Of course, the scariest film Ariana has ever been in has to be this one, where she licked a donut and said she hated America. SPOOKY.