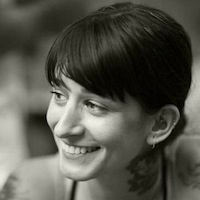 Filed by Jessie Dean Altman

|

Jul 05, 2016 @ 2:25pm
There have been a lot of celebrity bikini posts on Instagram lately, because it's summer and it gives celebs a chance to flaunt their bodies. On Monday night, bikini queen Ariel Winter posted a picture of herself in a bikini, and she even included a pun in her caption.
Winter advertised her singleness on social media a few weeks ago in an Instagram that also showcased her 18-year-old buttocks. Apparently the attention and adulation has gone to her butt's head, because it's been dying to make another appearance ever since. This weekend, she let her posterior live its dream of once again being in the spotlight by making it the focus of this picture. The caption reads: "Will always look back [winking emoji] at this #4thofJuly [American flag] #fireworks #family #friends #beach."