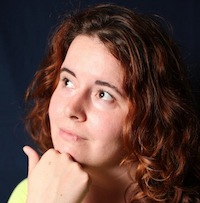 Filed by Aimee Lutkin

|

Aug 14, 2015 @ 11:40am
"Modern Family" actress Ariel Winters is only 17, but she was already sick of how people only talked about her boobs.
They were admittedly very large and lovely! But so are lots of things. Mountains. The Empire State Building. The Infinite Jest by the late David Foster Wallace. We don't sexually harass any of those examples, however, unlike teenage girls who are in the media spotlight.
Ariel, best known for playing Alex on the hit ABC sitcom Modern Family, has had a rocky road, with a very well-publicized emancipation from her parents at only 16. Plus, she's a child star! Everyone watches child stars, licking their chops like rabid beasts for the moment they cross the finish line at 18. Or they check in with them 10 years later and are absolutely shocked by how a child actor could grow up into an adult with a hot beard.