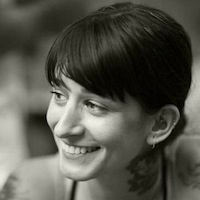 Filed by Jessie Dean Altman

|

Jun 27, 2016 @ 11:52am
Ariel Winter is single. She really, really wants you to know this. On Sunday, the 18-year-old Modern Family star posted an Instagram of herself in a bikini from behind, thanking her fans for helping her reach 2 million followers on the social media platform. But that's not what the picture was really about. The picture was about dat ass.
The caption reads: "2 million!!! Wow! I can't believe it...love you guys so much [heart emoji] #thankyou #love." But what it should read is "Hey there, I'm single, and I have a butt. It's a really nice butt, check it out. I wear bikinis a lot, did I mention I'm single? And, oh hey, I'm 18, yup, single, and legal, and possessing a hot ass that is mine, and could be partly yours, maybe." Lest you think that's too presumptuous, on June 25, right before the (most recent of many, and god love her, with a body like that who can blame her) bikini Instagram, she tweeted: