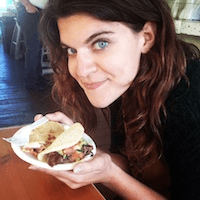 Filed by Kelsey Solywoda

|

Nov 04, 2016 @ 9:21am
Aubrey Plaza and Michael Cera almost got married in Vegas once. Oh, and also, apparently they were in a relationship for a while. I KNOW, WHAT?
Plaza revealed on RuPaul and Michelle Visage's podcast, "What's the Tee?" that she and Cera were together for a year and a half. According to Aubrey, the two of them met on the set of their film, Scott Pilgrim vs. The World (where she says they were "just friends"), and then fell for each other during a cross-country road trip. And then apparently there was one time they "almost got married in Vegas."
In true Aubrey Plaza form, when RuPaul asked if her and Cera's initial attraction came from being "enclosed in a small space," she responded, "Oh, like animals in captivity? Everyone just wants to fuck each other?"
Of course she was kidding, and said it wasn't like that at all. "He's a very special — I mean, we love each other," she said. "We're still really good friends. He's just a weird little freak and we speak the same language. He's one of the funniest people I know."
I'm sorry, I didn't even know they dated and now I find out that April Ludgate and George Michael Bluth almost got MARRIED? And they "LOVE EACH OTHER?!" I'm going to need a minute. Or several. I ship this so hard. GET BACK TOGETHER, PLEASE!