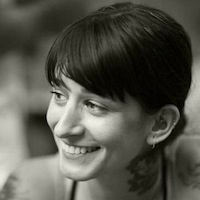 Filed by Jessie Dean Altman

|

May 03, 2017 @ 1:08pm
One of the most popular pictures from Monday night's annual Met Gala is one of actor/comedian Aziz Ansari watching Rihanna and Lupita Nyong'o take a selfie of themselves. As he looks on, it's hard to tell what he's thinking. Is he in awe in the presence of so much beauty and glamour? (That would be reasonable.) Is he just wondering why they don't ask him to take the picture for them? Is he trying to think of something funny to say to them? There's really no way to tell. But Twitter took the picture and ran, with everyone coming up with different captions for what exactly is going on.
Can someone make sure the movie in that last tweet happens, please?