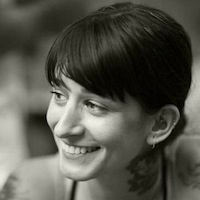 Filed by Jessie Dean Altman

|

Sep 22, 2016 @ 12:03pm
Model Bar Refaeli gave birth just six weeks ago and it looks like her post-baby body is already back in pre-baby shape. An Instagram she posted on Wednesday of herself in lingerie and thigh high stockings shows her looking svelte and sexy.
A post shared by Bar Refaeli (@barrefaeli) on
Good for her, I guess. She's a model, after all, so it's pretty much her job to be in shape.
But what does it mean when pictures like this are covered by media outlets as news? Does it mean that all moms are expected to look like Victoria's Secret catalogs mere weeks after pushing a human being out of their bodies? Would that even be possible for all women? Clearly we are functioning in a society that places a lot of importance on women's bodies. Some women get back into shape right after having a baby, and some don't. Some share pictures of their bodies, big or little, and some don't, big or little. Some women look like Bar Refaeli, while a great many don't. So, you know, here's a picture of an attractive woman in a seductive pose. Look at it, or don't. The world will continue to turn either way.