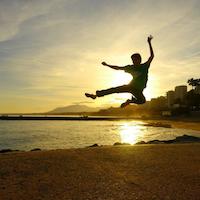 Filed by Mitchell Friedman

|

Mar 08, 2017 @ 9:25am
Back in February, Us Weekly reported that Ben Affleck and Jennifer Garner, both 44, were getting divorced for real. The couple had announced their split nearly two years ago, but Jennifer Garner reportedly decided to file for divorce one fateful Friday in 2017. And Bennifer fans wept. (Bennifer meaning Ben Affleck and Jennifer Garner, not Ben Affleck and Jennifer Lopez, the original Bennifer.)
But now, like a bad infomercial, just wait—there's more! People is reporting that, according to a Garner-adjacent source, "Jen has called off the divorce."
Called off the divorce! "She really wants to work things out with Ben. They are giving things another try."
Another source says the decision was mutual. "There is always a chance of reconciliation. They love each other. They also really, really love their kids, and those kids love their parents."
Bennifer have three children—Violet, 11, Seraphina, 8, and Samuel, 4.
For now, this is good news for all you Bennifer-ers out there. Until the next gossip report...