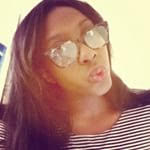 Filed by Ziwe Fumudoh

|

Aug 13, 2015 @ 1:00pm
A follow from @Beyonce isn't given, it is earned.
In the last 6 years, Beyonce has tweeted only 8 thoughts. Despite her limited activity, she has 14.1 million followers, because everyone wants to support Queen B. Not surprisingly, Beyonce is very selective in the people she associates herself with and she has bestowed the great followback privilege upon only 10 Twitter users. Although I don't know any of these individuals personally, I will impart my best estimation of how and why Beyonce cares about these people.
1. Solange Knowles
A post shared by Beyoncé (@beyonce) on