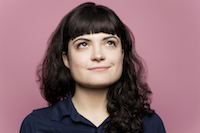 Filed by Jaime Lutz

|

Apr 15, 2016 @ 10:51am
Beyoncé launched her new fitness fashion line on Thursday, called Ivy Park, to great fanfare. But even people not in the market for reasonably priced sportswear can appreciate the promotional video Nordstrom used for the line, which features Queen Bey wiping out on roller skates. It's not quite like that time she fell during the Superbowl and no one noticed. People loudly gasp, like they're seeing something horrible.
Still, Beyoncé here offers an important guide for what to do if you ever stumble down in front of a crowd of people or while being filmed: laugh it off and make a self-deprecating comment. Don't run away crying or attempt to dig your way into the earth's core.