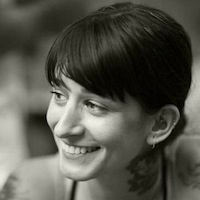 Filed by Jessie Dean Altman

|

Oct 20, 2016 @ 12:43pm
On Thursday, Rob Kardashian's fiancée and soon-to-be baby mama, Blac Chyna, Instagrammed a picture of herself with her new $400,000 gift to herself—a brand new Rolls Royce. Because that's how you roll when you're super rich, duh.
Her caption reads, "A little gift to myself for working this hard all year! Cant wait to bring my baby girl home!" She's almost definitely referring to her actual human baby girl there, and not the car.
Some sites are reporting this purchase as Blac Chyna's "push present." A few of you out there are probably wondering, "What's a push present?" A push present is a gift that the half of the couple not giving birth typically gives to the half that is. There's no rule saying a woman can't buy her own push present, and if you're going to do it, why not go big? And if you're marrying someone ridiculously wealthy, why not go even bigger?
But I don't think this is a push present, because, imo, there's no way that she's not expecting a gift from Rob. Although that doesn't mean she won't pick that out herself, too.