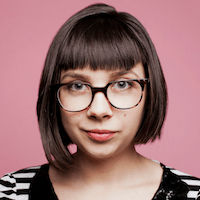 Filed by April Lavalle

|

Apr 21, 2016 @ 10:28am
Rapper B.o.B hasn't had a big hit since his song "Airplanes" came out in 2010, so he seems to have a little extra time on his hands to sit around and come up with conspiracy theories to tweet out to his 2.32 million Twitter followers. The latest one is his theory that the popular app Snapchat is using its filters to create a face recognition database without users' knowledge. Which is totally crazy! Right? Right?
when you realize all the snap chat filters are really building a facial recognition database ☕️🐸

— B.o.B (@bobatl) April 16, 2016
For those who don't use the app, Snapchat filters recognize facial features and overlay them with fun skins and filters that can turn you into anything and anyone from Bob Marley to a tomato.
According to Snapchat's private policy, all pictures are deleted right after the snap is opened or expired, so there is simply no way that the company is harboring information. Or is that just what they want you to think?
Feeling paranoid yet?
Earlier this year, the rapper and part time conspiracy theorist decided that the world is actually flat, and got into a tiff with actual scientist Neil deGrasse Tyson about it on Twitter.
@bobatl Earth's curve indeed blocks 150 (not 170) ft of Manhattan. But most buildings in midtown are waaay taller than that.

— Neil deGrasse Tyson (@neiltyson) January 25, 2016
@bobatl Duude — to be clear: Being five centuries regressed in your reasoning doesn't mean we all can't still like your music

— Neil deGrasse Tyson (@neiltyson) January 25, 2016
B.o.B, who, according to his Twitter bio, likes to "provoke thought, and piss off sheeple," really does tweet out some bizarre stuff (and this was all in the last month alone).
I'm not always paranoid I'm really a cool guy 😀

— B.o.B (@bobatl) April 20, 2016
I dont live by "truther" rules & "conscious community" rules. I dont care if you deny my authenticity. I know what I kno & speak from truth

— B.o.B (@bobatl) April 2, 2016
But at least he is somewhat in on the joke.
Oh Darn, I ran out of aluminum foil... Rats! what am I gonna make my hats out of now ?

— B.o.B (@bobatl) April 21, 2016