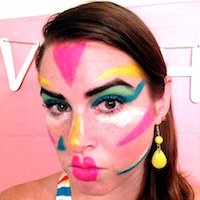 Filed by Ashley Bez

|

Aug 17, 2015 @ 2:56pm
It worked! The crazy days of Britney Spears are merely the wisp of a memory, fading into the distance.
She's like a mermaid who magically grew legs! Good thing, because she'll need legs to surf on her colorful Teen Choice Award surfboard. Britney Spears won the Candie's Style Award, and accepted the honor by taking the stage in 1/3 of a wedding dress (the sexy 1/3).
.@BritneySpears can hold up more than that #TeenChoice surfboard, thanks to major yoga skills: http://t.co/7DHhDb7pR4 pic.twitter.com/q7czGBvaPD

— Access Hollywood (@accesshollywood) August 17, 2015