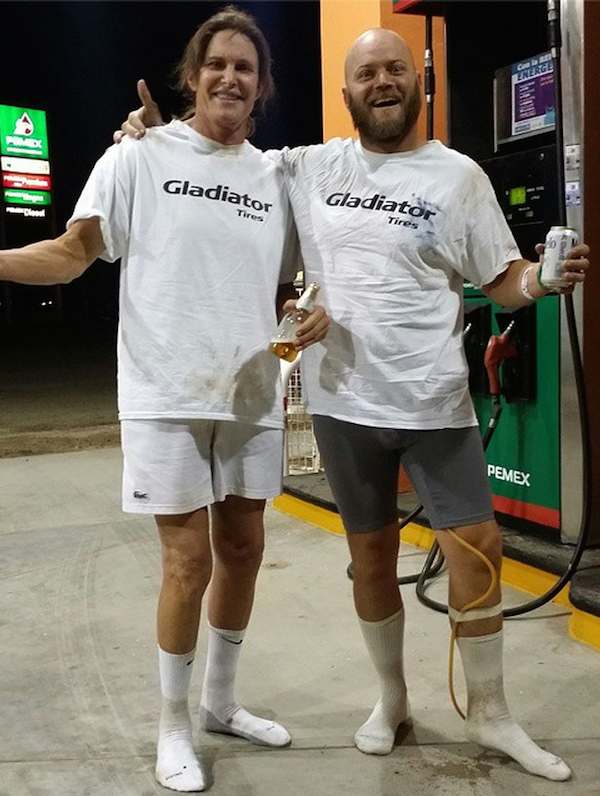 Bruce and his boy refueling. (via Instagram)
Get a load of Bruce Jenner! Have you ever seen someone so happy after crashing a truck, let alone one that costs $500k? It looks like Bruce is handling the separation from his wife/manager/boss Kris pretty well. You know you're having a tough year in the press when the most positive story about you in months is about a truck crash.
Here's the half-a-million bucks that just got "Jenner'd":
Bruce and his son Burt were taking part in the Baja 1000, an off-road race through the Mexican desert, when  Bruce drove their truck into a ditch at the 170-mile mark. Afterwards, Burt posted the smiling pic above to Instagram, along with the words:
Beat but not broken... Had to have a few beers before I could tell @pottsracing his #trophytruck would not be making it to him... #classyShot #YesThatsACathider
Bruce and his son both appeared happy to walk away from the wreck unscathed. Of course, it's a lot easier to smile when the wrecked truck worth a half-mil isn't yours. Also, the Mexican desert was probably a nice place to be during a week when the biggest story in the U.S. involved his stepdaughter's naked ass.
It's nice to see Bruce having a good time. And we should all be thankful that #YesThatsACathider didn't catch on.
(by Jonathan Corbett)