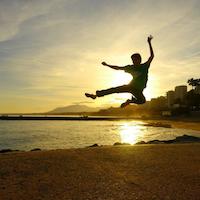 Filed by Mitchell Friedman

|

Aug 24, 2016 @ 10:47am
As a woman goes through pregnancy, she grows a new organ called the placenta. The placenta essentially feeds and poops the baby, and after the mother gives birth, it comes sliding out with all the other sloppy goodies. To the following celebrities, the afterbirth is not a wet, do-not-google-image-it organ that looks like a bloody liver. It is a treasured gift. It is a snack. It is Mother Nature's care package.
1. Holly Madison
Plenty of reputable media outlets spent 2013 reporting that a pregnant Holly Madison was "planning on having [her] placenta turned into pills [she] can take after giving birth." Said Hugh Hefner's ex-girlfriend: "This might sound gross...I heard it helps women recover faster and I want to recover as quickly as I can!" Curiously, nobody seems to have checked back to ask her how it tasted. Which is fine, because that's why we have Tamera Mowry (#5).