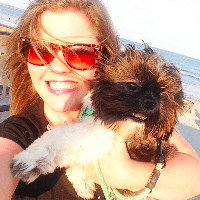 Filed by Missy Baker

|

Jan 27, 2016 @ 1:32pm
Actor and sensitive hunk Channing Tatum really is the perfect guy. Judging by how much he loves his wife, his daughter, and animals, he's as sweet as he is hot (and he's insanely hot.) The Magic Mike star shared this heartbreaking black and white photo of his adorable daughter, Everly, saying farewell to their pet goat, Heather. Didn't even know he had a pet goat, and now she's gone. What an emotional roller coaster.