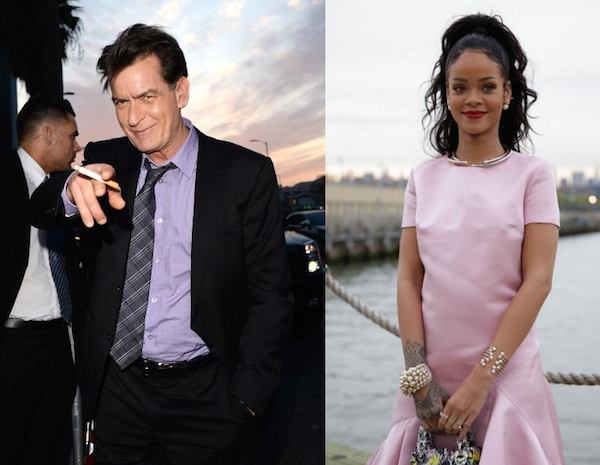 Losing. (via)
The walking, talking temper tantrum Charlie Sheen put down his cigarette long enough to type a lengthy Twitter rant aimed at Rihanna after she blew off he and his porn star girlfriend at a restaurant in Santa Monica. Charlie and the latest love of his life, Brett Rossi, were eating at Giorgio Baldi when they noticed Rihanna seated nearby, probably doing her best not to be noticed by The Masheen.
It was Rossi's birthday, and Charlie decided it would be nice for her to meet Rihanna, so he sent over a request for a meeting, which was promptly denied. As Charlie put it in a tweet, "Well, the word we received back was that there were too many paps outside and it just wasn't possible at this time." More likely, Rihanna was eating with people she liked and didn't feel like interrupting her meal to meet the stars of Anger Management and Bondage Tongue Bath.
Not surprisingly, that got Charlie's tiger blood boiling, so he did what most 48-year-old fathers would do—he went on a rambling Twitter rant that sounded like it was dictated to Siri while he cut up Rihanna pictures with a pair of tiny scissors:
At this time? AT THIS TIME??
lemme guess, we're to reschedule another random
11 million to 1 encounter
with her some other night...?
no biggie for me; it would have been 84 interminable seconds of chugging Draino and

"please kill me now"
that I'd never get back.
My Gal, however,

was NOT OK with it.
Nice impression you
left behind, Bday or not.
Sorry we're not KOOL enough
to warrant a blessing from
the Princess. 
(or in this case 
the Village idiot)
Believe it or not, there's a lot more to it, but you get the general idea. Which is, Charlie still has serious problems.
Rihanna seemed fairly casually about it, responding with a tweet about Charlie being an "old queen," then shut it down with this:
— Rihanna (@rihanna) May 22, 2014
Then Charlie's ex, Denise Richards, decided to join the fun, and tweeted at Rihanna, "It's nice to have a tiny break.. Not worth your time gorgeous girl. p.s. When is your next show? Our daughters & I are huge fans."
At that point, Charlie dropped out. Most likely because he flew into rage and was on his roof throwing bottles into the pool.
(by Jonathan Corbett)