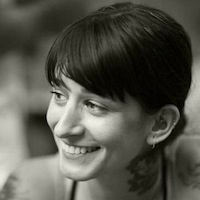 Filed by Jessie Dean Altman

|

Mar 15, 2016 @ 10:11am
On Saturday, Cher, beloved performer, celebrity, and frequent all-caps Twitter user, tweeted a comparison between Donald Trump and Adolf Hitler.
LIKE TRUMP,HITLER CAUSED CHAOS&FEAR,THEN SAID HE WAS THE ONLY MAN STRONG ENOUGH 2KEEP PPL SAFE& KEEP TROUBLE MAKERS FROM RUINING THE COUNTRY

— Cher (@cher) March 12, 2016
On Monday, a random Twitter user tweeted at her, to let her know her caps lock key was on, AS IF SHE DIDN'T KNOW.
And Twitter hero Cher took the time to tweet a response to the concerned grammar troll.