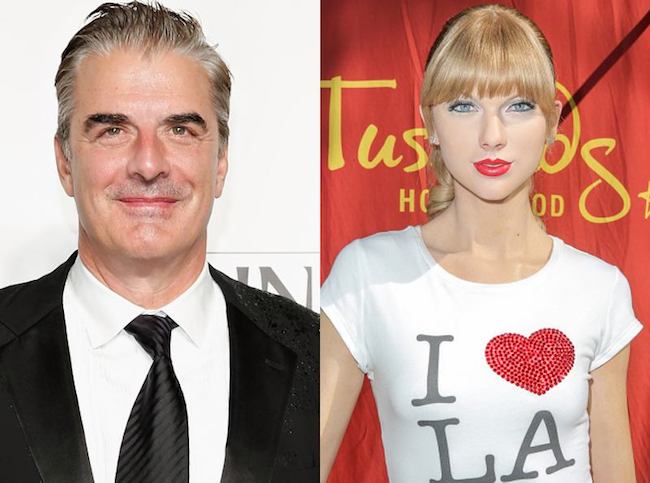 Mr. Big and Mrs. Bigger. 
(via Getty Images)
The picture at the top isn't actually Taylor Swift, it's a wax figure that was unveiled last month at Madame Tussauds of Creepy Statue Tourist Trap in Hollywood. When making the Taylor Swift figure, they decided to put her in an "I (heart) LA" T-shirt, because why the hell not? She owns a beautiful home in Los Angeles.
That's why a lot of New Yorkers were surprised when Taylor was named New York City's Global Welcome Ambassador recently. Mostly, because they weren't aware that was even a job, and would've loved the opportunity to at least fill out an application before the gig was handed over to a pop star whose strongest link to the city is a dopey song inspired by the recent purchase of a $20 million Tribeca penthouse.
Law and Order star Chris Noth may have been surprised by the appointment, but he's cool with it. The guy who will always be known as Sex and the City's "Mr. Big" (because it's a way better nickname than "Detective Michael Logan") has lived in the city for years and thinks Taylor Swift perfectly represents the new face of New York City. Here's how he put it to NY Daily News:
"Manhattan has become a borough for the rich. I've said it and I'm not afraid to say it again. So she's probably the perfect representative. I don't know what people (who disagree with her appointment) are bitching and complaining about — that's what happened to New York."

"It's become a boutique borough, and that's why young people are having a hard time finding a way to live here, and the middle class and the blue-collar workers ... 
He should know, as a guy who spent years making a show that was worse for New York City's image than drunks who brunch and catcalling videos combined.
But Noth's point is valid. The city is now famous as a playground for the famous, which is why NYC and Taylor Swift are perfect for each other. At least until she dumps them and comes back to Los Angeles.
(by Jonathan Corbett)