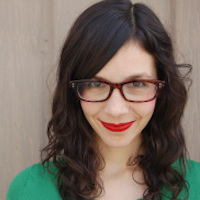 Filed by Meg Favreau

|

Apr 23, 2016 @ 2:50pm
Chrissy Teigen and John Legend's baby, Luna, is hitting all of the proper social media developmental markers: first Instagram within three days of birth, and now, first Snapchat within one week of birth. And not only did Luna appear on Teigen's Snapchat, she went above and beyond by appearing in multiple Snapchats. Like this one, which was captured by a Chrissy Teigen fan account, where Teigen licks Luna on the head (with a digital dog tongue):
And this "no filter" one that Teigen reposted to Instagram herself:
A post shared by chrissy teigen (@chrissyteigen) on
Here's one last one from the fan account, which includes both the image above and a gorgeous makeup selfie from Teigen. Can't believe she took the time to do all that jewel work so soon after giving birth!
Really looking forward to Luna's first posts on Periscope, Twitter, Google+, Tumblr, Pinterest, Vine, and LinkedIn.