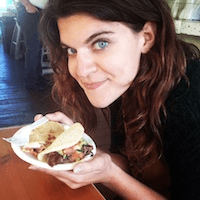 Filed by Kelsey Solywoda

|

Nov 23, 2016 @ 10:34am
After what was definitely the most divisive presidential election that I have seen in my 26 years on Planet Earth, some family Thanksgiving tables may be just a liiiiittle bit tense tomorrow. We already know that supermodel Chrissy Teigen is a master of chill (who else could laugh off a wardrobe malfunction with such ease?), so why not take some of her advice on how to survive your post-election family holiday getherings? Teigen shared some of her tips with The Huffington Post.
The first thing in Teigen's survival guide? Booze. "Drinking always helps," she told HuffPo, "especially this year."
"It's hard because people get in such huge fights around the dinner table," Teigen continued. "I think obviously try and never talk about politics or religion, but it's going to come up, especially if you're in my house or John's home and everyone has very strong opinions all the time."
In other words, brace yourself for the inevitable political discussions by snagging a seat next to your aunt who keeps the wine bottle next to her plate. (We all have one, right?)
But what if six glasses of wine just isn't enough to escape the rampant political debate happening at the dessert table? Teigen does have one other remedy.
"My escape has always been reality television," she says. "It's like the background noise that makes you feel sane can relax now, even though people are screaming at each other."
So grab your fun aunt, a bottle of wine, and settle in for a marathon of The Real Housewives of New York. We're in for a long holiday season.