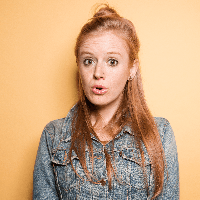 Filed by may wilkerson

|

Mar 10, 2017 @ 6:40pm
Being a woman and mom in the public eye, Chrissy Teigen has seen (and eviscerated) her fair share of vicious online trolls. But this is a new low. The model and mom posted an epic call out on Twitter early this morning after some trolls had the audacity to go after her and John Legend's 1-year-old daughter, Luna. WHAT?!
A Daily Mail article recently featured photos of Teigen's family out out shopping in Beverly Hills. Photos like this one:
Apparently the pics received some nasty comments, criticizing Teigen and Legend's parenting skills, and even Luna's facial expressions.
Teigen, queen of Twitter and my heart, called out the trolls by tweeting out screenshots of the comments to her 4.6 million followers:
"Imagine being this miserable," she wrote. "We are fine, thanks."
BYE, HATERS.
People are tweeting their support for Teigen, and everyone seems to agree that Twitter trolls are not happy people.
@chrissyteigen I'm so confused trying to figure it out but why are these people bashing on some random child?? Or any child? Why??

— Lan(emm) Bo(y) • 4 (@907bis) March 10, 2017
@chrissyteigen lol, people are so determined to find issues w other people's lives so they don't have to sit back and look at their own 👀

— ellie bate (@eleanorbate) March 10, 2017
In addition to being unhappy, trolls are often not great spellers. As a few people pointed out one had written of Luna: "she never smiles or frys."
Frys??????
@chrissyteigen tbh, we are all very concerned with your baby's lack of frying. Why aren't you sharing your fries with her?

— Caitlin Abber (@everydaycaitlin) March 10, 2017
@chrissyteigen crazy Luna never "frys." shouldn't be know how to make her own fried chicken by now?! COMMON BABY SKILLS

— Jodi Guglielmi (@JodiGug3) March 10, 2017
Seriously though, it can be easy to forget that celebrities have smartphones and wifi signals and sometimes they read the things we write about them. Yeesh! So we should probably be a little nicer. And not criticize kids, ever.
Also, Chrissy, IF you're reading this, I have zero opinions about how you and John Legend raise your beautiful baby or how often she fries.
Want to hang out and go shopping sometime?????? (Hey it's worth a shot!)