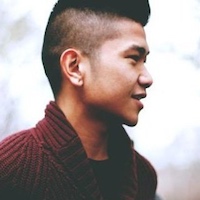 Filed by Keith Estiler

|

May 04, 2016 @ 2:05pm
Light years before he starred in Wedding Crashers, Pulp Fiction, and The Deer Hunter, legendary actor Christopher Walken once worked in the circus as a lion tamer. Apparently, he was 16 at the time and would perform with a lioness named Sheba. "She'd come and bump your leg. Like a house cat," Walken told Indiewire. Like a house cat? The man is a badass.
Not to mention, he was pretty dang attractive.